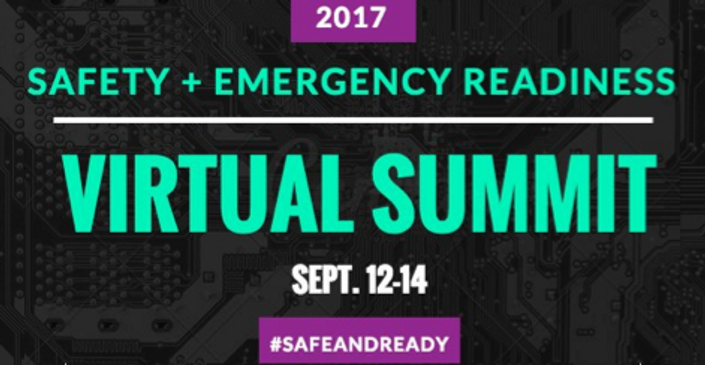 2017 Safety and Emergency Readiness Virtual Summit
On September 12-14, 2017 the 2nd annual Virtual Summit features webinar workshops with national leaders in safety and emergency preparedness.
Watch Promo
Register to View Recordings
Join us for the 2017 Virtual Summit!
Join us for 3 days of interactive webinars this September 12th-14th (Tues-Thurs) for the 2nd annual Safety and Emergency Readiness Virtual Summit.
Over 25 national experts provide instruction on a wide range of topics pertaining to safety and emergency preparedness. Below are some examples:
Community Recovery and Rebuilding After Disaster
Cyber Threats In A Digital-Dependent Age
Social Media for Emergency Managers
Dynamic Problem-Solving for Emergency Managers
Communicating with Persons with Disabilities or Functional Needs
Getting Financial Assistance After Disaster
...and much more!
---
Agenda & Presenter Info
Which presentation are you most interested in? Click through the Slideshare to learn more about the presenters and their topics.
View and download the complete agenda here.
---
FAQs
What does it cost? It is free to view all live webinars, however, you must buy the VIP Pass to gain access to view and download all webinar recordings, which includes several hours of videos.
Why should I buy the VIP Pass? You don't want to miss any of these presentations. In fact, you'll want to replay them over and over. The VIP Pass allows you to replay presentations on your desktop or mobile device and at your own pace.
How can I convince my boss to pay for the VIP Pass? Think about the last time you went to a conference... Did you see 25 presentations? Did you remember half of it? The VIP Pass is a fraction of the cost of attending a conference, but it's a better learning experience because you can replay each presentation and soak in much more than you could at a conference.
How will it be "interactive"? You will see live video feeds of presenters and get to chat with them while they are presenting. You can answer polls, ask questions, and Tweet along with the hashtags #safeandready #virtualsummit.
---
Press Info
here
.